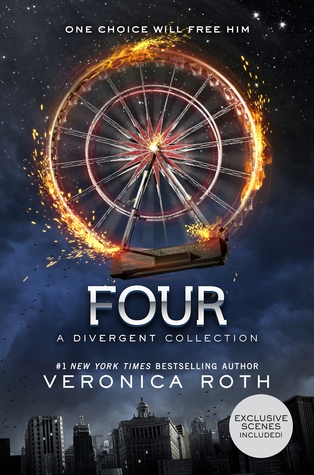 4 STARS FOR FOUR!!!! See what I did there???? 😀
Title: Four (Novella to the famous series Divergent)
Author: Veronica Roth
Format: Hardcover
Published: July 8th 2014 by HarperCollins Publishers
EEEEEEE!!!!!
OMG MY FANTASTIC MOTHER SHOWED UP WITH THIS BOOK IN HER HAND AND TOLD ME SHE BOUGHT IT FOR ME AND NOW I GET TO FAN GIRL ABOUT IT WITH EVERYONE ELSE EEEEEEEEEEE!!!!!!!!!
I'm hyperventilating right now… -sighs dramatically-
This is how I was before I started to rea this book 🙂
After reading this book, all I know is that this book was perfection. This book tied the whole series together, and I'm so glad now that this book was invented, because we finally got to see one of the most important characters in the series' POV before he became an initiation instructor.
At first I thought I wasn't going to like it because of what happened with Allegiant, but I tried to get that out of my mind, because that wasn't even mentioned in this book, so as soon as I forgot about it, this book was worth reading.
My favorite novella from this one would have to be The Traitor, because that's when we see Four and Tris meet, and I finaly got to experience reading that moment in Fours POV 🙂
Reading about Fours transfer, his initiation year, and him working as an instructor and computer wiz was really interesting 🙂
I also liked the day that we got to see how much he has developed from being a "Stiff" like Tris, to being this kick-ass Dauntless instructor thy should've been a leader, but he didn't want to become like his father, a monster.
I really enjoyed this book, but I just don't like that fact that this was written after that disappointing ending with Allegiant. Makes me wonder if this was planned so we can forgive her and forget about it 😦
Plus, I think the MC of this series is really Four and not Tris. Because we always tend to focus on Four instead of Tris. Which is why people acted the way they did with the ending of Allegiant.
(Hey it could've been worse… Our favorite character in this series could've been the one, if you've read allegiant you know what I'm talking about 😉
I've taken long with this book because of too many distractions and trying to piece this book with the series btw 😉