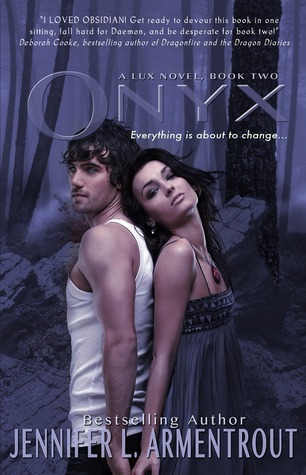 This is the cover! ❤ 😀 ❤
Title: Onyx (Lux #2)
Author: Jennifer L. Armentrout (Favorite author of all time!)
Published: August 14th 2012 by Entangled Teen
Summary in Katy's POV (adds to the interest)
Minor spoilers ahead, so BEWARE 🙂
HOLY DAEMON BABIES!!!!!! What. was. THAT?!?! With that awesome story, and then you get to the end and….. POOF! CLIFFHANGER! I DESPISE cliffhangers!!!! Especially when I don't have the next book with me at the moment -_- I'm depressed Dx.
Being connected to Daemon Black sucks… (but to me it rocks!)
Thanks to his alien mojo, Daemon's determined to prove what he feels for me is more than a product of our bizarro connection. So I've sworn him off, even though he's running more hot than cold these days. But we've got bigger problems.
Something worse than the Arum has come to town…
The Department of Defense (DOD) are here. If they ever find out what Daemon can do and that we're linked, I'm a goner. So is he. And there's this new boy in school who's got a secret of his own (Blake :P). He knows what's happened to me and he can help, but to do so, I have to lie to Daemon and stay away from him. Like that's possible. Against all common sense, I'm falling for Daemon. Hard. (Which is good, because falling for Blake would be bad, and I would have to dive into the book and slap her silly :))
But then everything changes… (How could it not? It is the second book out of 5!)
I've seen someone who shouldn't be alive (Bethany, oooops big spoiler :3) And I have to tell Daemon, even though I know he's never going to stop searching until he gets the truth. What happened to his brother? Who betrayed him? And what does the DOD want from them and me?
No one is who they seem. And not everyone will survive the lies…

Yes in this one there will be deaths, one of them important, I almost cried myself, but the others will leave you cheering and "whooping" until the book ends 😀
All these questions will be answered, and Opal (the 3rd book) is going to be much more intense, and better than ever 😀
I'M SO EXCITED, I NEED THE NEXT BOOK NOW!!!!
On second thought…  Particularly Daemon. ❤