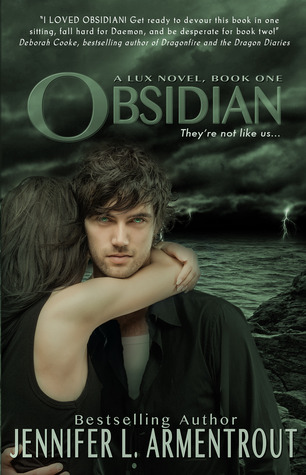 This is the cover ❤ 😀 ❤
Title: Obsidian (Lux #1) ❤
Author: Jennifer L. Armentrout (favorite author!)
Published: May 8th 2012 by Entangled Teen     
Summary in Katy's POV (adds interest)
Starting over sucks.
When we moved to West Virginia right before my senior year, I'd pretty much resigned myself to thick accents, dodgy internet access, and a whole lot of boring… until I spotted my hot neighbor, with his looming height and eerie green eyes. Things were looking up.
And then he opened his mouth.
Daemon is infuriating. Arrogant. Stab-worthy. We do not get along. At all. But when a stranger attacks me and Daemon literally freezes time with a wave of his hand, well, something… unexpected happens.
The hot alien living next door marks me.
You heard me. Alien. Turns out Daemon and his sister have a galaxy of enemies wanting to steal their abilities, and Daemon's touch has me lit up like the Vegas Strip. The only way I'm getting out of this alive is by sticking close to Daemon until my alien mojo fades.
If I don't kill him first, that is.
This book was still really, REALLY good even if I had to read it twice to remember everything to read the next one 🙂
Everything about this book was perfect!!!
Armentrout did an amazing job explaining a whole different way of how we really think of aliens 🙂
We, as humans, think that aliens are these green little figures, that are intelligent, have big eyes, are gooey, and have tried to take over our planet!!! Oh no!!!
But I've never imagined aliens as a life force as bright as the sun!!
Of course I've known that aliens had a whole bunch of powers, and can do many unique things that we as humans can never do, and that they can glamour people, but I never new their kryptonite 🙂 And that aliens had their own enemies, and my gosh Daemons mood swings!! more on that later….
I loved the characters, the plot, aliens, Daemon <33 if he didn't have so many mood swings, and on and off moments 😛, the world building was just lazy, i mean all Armentrout had to do was describe a house, state, car rides, prom, and that stuff is easy, but if she had to actually create the aliens' world then were talking different, but im not going to take points off that 😉
I just love the story soooo much 🙂
The only thing that didn't do it for me, was that I didn't get enough information on the aliens' enemies, I don't know if Katy is going to end up special, or if she stays human, because she has a little scene in the ending….. and it might tell us something in the future books of the series… and we have a little cliffhanger in the end… sad 😦
But every thing else was good 🙂
Oh and one more thing, I hope Katy becomes a stronger protagonist, because in this one she was a bit of a whiny, runner, but I have to give her credit, she barely flinched, when Daemon told her EVERY SINGLE THING ABOUT THEM, AND I MEAN EVERYTHING about them, even though he knew the consequences, and that took guts 🙂
That's all, I'm so excited for Onyx!!!! EEEEEEE, that is, when I buy it 😀