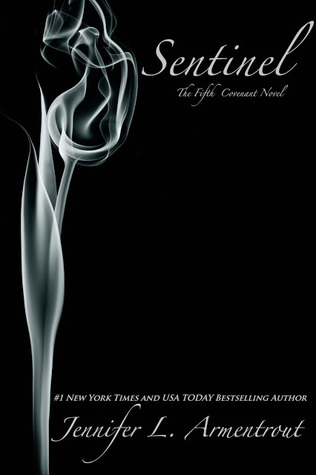 This is the cover 🙂
Title: Sentinel (Covenant #5)
Author: Jennifer L. Armentrout
Published: November 2nd 2013 by Spencer Hill Press
Plot: It's a beautiful day for a war.
As the mortal world slowly slips into chaos of the godly kind, Alex must overcome a stunning defeat that has left her shaken and in doubt of their ability to end this war once and for all. (from the end of Apollyon #4 in series)
And with all the obstacles between Alex and her happily-ever-after with the swoonworthy Aiden, they must now trust a deadly foe as they travel deep into the Underworld to release one of the most dangerous gods of all time. (THE TITAN!!!! XD)

In this book, Alex must face a terrible choice: the destruction of everything and everyone she holds dear or the end of herself (which one do you think she chooses?)
**MINOR SPOILERS AHEAD**
OMG I CAN'T BELIEVE I JUST FINISHED THIS BOOK IN JUST A FEW HOURS!!!!
Do you know what that tells me???? That yes, this book was that good and that short. I literally flew through the pages!!! LITERALLY!!!
And how did I not? I mean really?? So many unexpected things happened in this book, like a fracking TITAN sides with Alex and her friends, and Alex becoming the god killer, and that ending!!!! I clearly did not expect that AT ALL!!!!
OMG I'm still freaking out right now, and considering I finished this book in less than 4 hours, my brain is fried, I'm practically fan-girling, and I scram so loud I woke the neighbors :3. And I'm not sorry, because I'm probably going to be up all night O.O
Anyway, a lot of war (like the ultimate battle b'w a god and Alex :3), losses (some of our favorite characters have died, and have been greatly missed, I almost cried), god-appearances (al of them :3), different sides of our favorite characters, adventure, action, romance (and the steam kind too, -raises eyebrows and grins- :3), and etc. etc…
Back to my review, I basically told you on the paragraph above what this book had, so I'll just say my thoughts…
I loved the amount of action/adventure this book had, it kept me at the edge of my seat (it included the Underworld, Olympus, and other parts of the U.S);
I loved the romance, it left me swoon and sigh dreamily;
I loved the way I get to see the different sides of the characters. For example: Aiden acting all flirty and wanting with Alex; Seth having a nice side, (well he's always had, but actually showing it), since he let Aiden and Alex be together in the end <3; and many more, many more (including the gods :3)
I loved the MC, she did remind me of a character b/w Rose (VA), and Helen (Starcrossed) though;
I loved Aiden, (I want him so fracking badly!!!!! Ahhhhhhh!!!!! -_-);
I just loved this series, I devoured it 🙂
Anyway, this was the best book in the series, and I'm being serious about it. My brain is so fried with how this story has progressed over the week, I seriously do not know how I'm going to be able to read another book without confusing the world building, and the paranormal stuff going on, because really, this book was just that awesome.