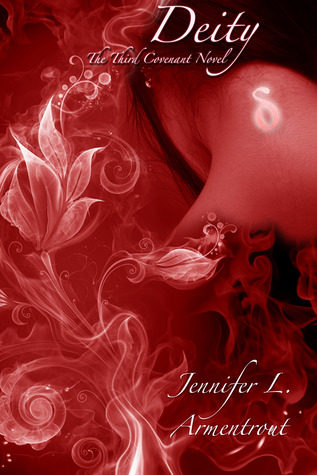 This is the cover
Title: Deity (Covenant #3)
Author: Jennifer L. Armentrout (Favorite author still 🙂 )
Published: November 6th 2012 by Spencer Hill Press
This book is all about Alex (of course) constantly worrying about if she would make it to her eighteenth birthday AKA: her Awakening.
If you were a mortal, the possible reasons would be: Shot by a gun, run over by a car, heart attack, or getting a very serious disease/poisoned.
blood) everything is soooo not normal for her, since she has the fanatical order, the Council, and the gods, out to kill her, plus Seth wanting her to awaken to control her or "use" her for his own benefit, I'm surprised shes even still alive.
And to top it off, she's in love with Aiden, and is still caring about Seth, no matter how much he has lied to her, took advantage of her, and has used her, she is stil trying to find out a way of how to get him to become mentally sane again, (because Seth was being manipulated by Lucian, who happens to be Alex's step-father -_-)
Before Seth became the way he is, and the gods got angrier than ever, Alex's biggest problem was
her and Seth spending time "training" which was really Seth's code word for some up-close and personal one-on-one time.
This happening, she ends up with another mark of the Apollyon, which brings her one step closer to Awakening ahead of schedule. (she got 3 marks ahead of schedule, because Seth is an arrogant stubborn bastard and just cares about himself)
But as her birthday (her awakening) draws near, her entire world shatters with a startling revelation and she's caught between love and Fate.
Love being Aiden: who will do anything to protect her.
Fate being Seth: who has been lying to her since the beginning.
At least Alex managed to solve the love triangle problem, but the biggest problem is: the gods.
They have revealed themselves, and their going after Alex so that Seth cannot become the godkiller, so the gods are unleashing their wrath, leaving innocent lives destroyed.
The solution: Alex needs to Awaken and make sure that Seth doesn't get a hold on her, before she takes care of him… And she will need Aiden to do it.
After reading this book, all I know is that I am so lucky that I have the next book to read, because if I didn't, I would be starting a riot… (and boy am I late, because this book was published like 2 years ago 🙂 )
Anyway, let me tell you the main thoughts I had  throughout this book…
1. I hate Seth (yes its number 1)
2. I hate Lucian
3. I am very mad about the ending of this book
4. I love Aiden (why can't I have him?)
5. This book changes a lot of things between the comparison b/w Vampire academy
6. This book reminded me of the Mortal Instruments for some reason…
7. The gods appear in this series OMG!!!! AHHHHHHHHHHHHHHH 😀
8. And I am going to go and read the next book before I hyperventilate, and not be able to do it 🙂