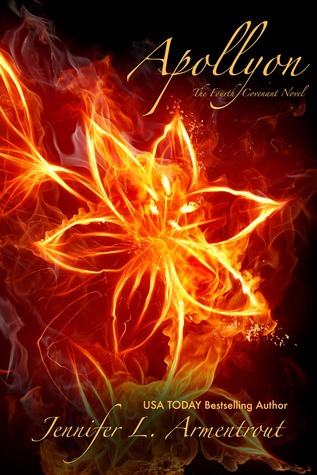 This is the cover 😀
Title: Apollyon (Covenant #4)
Author: Jennifer L. Armentrout (Favorite author everrrrr)
Published: April 4th 2013 by Spencer Hill Press
** spoiler alert **
HOLY DAIMON BABIES!!!! WOOOOOOOOOW.
That's all I can say, WOOOOOOOOW.
Do you know why all I can say is WOOOOOOOOW?
Because, soooooooo many stuff happens in this book, and the war hasn't even begun yet… (well the ultimate battle, I'm talking about.)
After reading this book, all I can process is that there is a lot of action, romance (but it doesn't focus on that), shocking revelations (ALOT), trips to the Underworld, getting to know the gods better, a sucky beginning, we get to see other sides of our favorite characters in the series, and the next book is going to be one heck of a book, and there is going to be one heck of a battle!!!
WARNING THERE ARE SPOILERS HERE SO IF YOU PLAN ON READING THIS SERIES, DO NOTREAD FURTHER 🙂
.
.
.
The beginning is suckish because it starts off with Alex being a whiny baby, and how much she wants to be with Seth. And its funny because in the past books all she wanted to do when it was his concern, was flip his head inside out… So throughout her tantrums, and calling him "MY SETH, MY SETH!!" I laughed hysterically 🙂 Yes, it was lagging there, and slow, and stupid, but whatever, I laughed for no reason, and now I have the darn hiccups 😛
Anyway, when she finally came back to her senses, there was ALOT of apologizing… and the apologies don't end there, its 😛 Considering there is a war over there heads, Alex and her team are in a cabin apologizing to each other, when they should be plotting there next move.
But whatever, at least it stopped at some point. Well, after the apologies, there was training, the fact that Apollo showed up, (view spoiler)[Alex is a descendant of him, so he shows up out of no where and helps her out for their next move, (hide spoiler)] was a shocker, but it was expected.
After training was UNDERWORLD TIME!!!
Not many stuff happens down there. Sure, Alex goes with Aiden (the love of her life 🙂 and meets Persephone and Caleb there so that she can talk to somebody she has to talk to so that she can drain Seth dry without him doing it first so that he can become the Godkiller…
Wooooooooooow I know. By the end, Team not wanting to take over Council and Olympus AKA: Alex and her friends/family, find out which god has been helping Lucian and Seth with their plans, and that god wanted to take Alex to Seth so that their plans can succeed. But like the bad-ass girl she is, she takes the pain, and was saved in the end by Apollo, Marcus, and Aiden <3.
In the end, she returns home, and finds her mother (as a ghost) there and they talk, plan, cry, and say their goodbyes when Alex has to rest and heal and prepare for ultimate destruction of Lucians, the gods, and Seths plans!!!! 🙂
I'm just so darn excited for the next book!!!! I'm literally holding it in my hands while I'm writing this review 🙂
EEEEEEEEEE Ok, I'm stopping now 😀